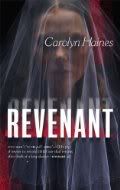 I think REVENANT was highly recommended by Wendy last year, and I've been slow on the uptake. In all honesty, I'd started and stopped it a few times but finally sat down last week, determined to finish it. What started out as a bit slow actually turned into a riveting read that I couldn't put down this morning until I'd finished it.
When a decades-old mass grave near a notorious Biloxi nightclub is unearthed, reporter Carson Lynch is among the first on the scene. The remains of five women lie within, each one buried with a bridal veil -- and without her ring finger.

Once an award-winning journalist, Carson knows her career is now hanging by a thread. This story has pulled her out of a pit of alcohol and self-loathing, and with justice and redemption in mind she begins to investigate. Days later two more bodies appear, begging the question -- is a copycat murderer terrorizing Biloxi, or has a serial killer awoken from a twenty-four slumber?
First off: the book is told in first-person, which is not always my first choice. But for REVENANT it worked. Carson is a journalist at a small newspaper, basically the only paper that would hire a washed-up alcoholic journalist, despite the fact that she'd been an ace back in the day. That Carson is long gone, now replaced by the hollow shell of a woman she is now, wounded and scarred by the loss of her daughter in a fire that was meant for her. Since Annabelle's death, Carson has had to come to terms with the break-up of her marriage and getting on with life. With the discovery of the bodies, Carson can concentrate on someone else's pain and story, instead of her own.
But what should've been just a story, albeit one that may jumpstart her career again, turns into something more. Now instead of her pain being easily numbed by the booze, Carson is among the living, keenly feeling the loss of the women who are mourned by loved ones. And this is where REVENANT turned from an ordinary suspense novel into one with bite, depth, and character. Carson's story isn't told from the very beginning, but spread into layers, revealed slowly in stages. What's most poignant are the raw wounds that are slowly reopened as she goes the extra mile to write columns featuring the Bridal Veil murders that don't result in splashy news, but award-potential material. Yes, she's a journalist with heart who not only wants to give people the news they deserve, but do it in a humanistic way.
Yeah, yeah, I wax on, but honestly, this was one killer book that I'm hard-pressed to give away. My only disappointment is that it doesn't seem there will be any future books featuring Carson, and there so easily could be. She's someone I *want* to read about and grow with. I'm definitely not sorry I finally picked this one up and gave it the read it deserved...