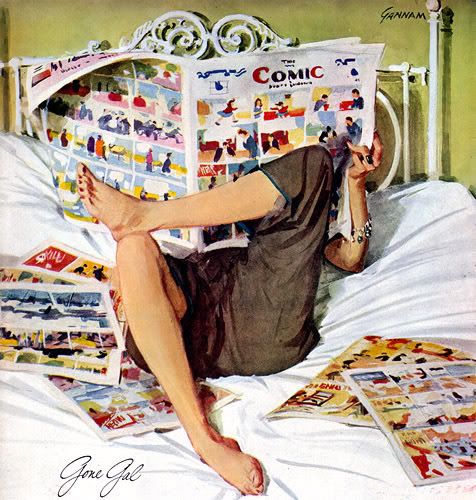 I have gotten a whole lotta nothing accomplished this weekend, and I'm trying to dig deep and find it in myself to feel guilty about it. Since our washer escapades earlier this week (what? I didn't tell you -- John and I had to buy a new washer on Monday), it's been all we can do to stay on top of the laundry. I've got a mile-high stack of clothes to take to the Salvation Army, and I've just started cleaning out our walk-in closet. What I'd love to do is play with my books today, maybe do some weeding out. Oh, and I have to pick out a new book to read since I finished up the Ortolon book.
What surprised me with UNFORGETTABLE, the aforementioned Julie Ortolon book I just finished, was that it didn't totally suck. Maybe I should qualify that -- I think I've mentioned here before that despite the numbers of contemporary romances I have in my TBR, I tend to shy away from them due to the sheer "zaniness". Sometimes it feels that while an author may be trying to go for a light-hearted, comedic flair, they overstep and make their characters and actions too wacky which results in contemporary FAIL for me. Ortolon's characters in this one may do silly things, but they have their reasons. And, honestly, while there is a plot with a mystery in it, the book remains character-driven in my opinion and really adds a flavor that made me smile.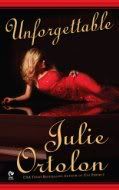 UNFORGETTABLE features Riley Stone, a country singer who has returned to Hope, Texas, to carve her own niche in the world and immerse herself in the town she calls home. Jackson Hope, the boy she'd lost her heart to in high school, is also back in Hope at the behest of his father, the town's "leader", and God only knows what he wants now. It was only a matter of time before Riley and Jackson would see each other again, and each has their own reasons for putting on a gameface to hide their true feelings.
For years, the citizens of Hope have built and worked hard to keep their town free of tourist traps and cheesy outlets, despite a needed influx of money that could make the town prosper. The dance hall used to be the focal point where everyone would go on a Friday or Saturday night after a day of shopping at the various shops and boutiques owned and operated by Hope citizens. After the hall's operator, Miss Dolly, died, the hall had died along with her since no one had the talent and guts to run it like she did. Riley does, and wants to make a success of it again and that thought is forced home when the Hope family threatens to destroy it.
Riley may show the world that she is tough as nails and her body-to-die-for isn't for sale, but she plays up a vamp attitude to protect herself from people seeing the woman she truly is. Jackson had been floored by that body years ago, and he's sucker punched once again when his fantasies return with Riley as the star. But now they have bigger fish to fry when Jackson's father threatens to tear down the town's beloved dance hall and make room for a discount chainstore that will totally destroy Hope's small town atmosphere and warmth. Jackson can't believe that his father would be stupid enough to kill what makes Hope work -- small town living at its best. What's even more amazing is that now when he looks at Riley, instead of one night, he's seeing forever.
Before this "small" review totally veers off course, allow me to say that UNFORGETTABLE was a much-needed palate cleanser for me. Maybe I wanted to smack Jackson and Riley up alongside the head once or twice, but in all honesty, I appreciated this book for what it is, a lighthearted contemporary that kept me turning the pages to see what happened next. Looking at the author's website, it seems that this book was her most recent release, and it's dated 2007. Anyone heard anything else from her?