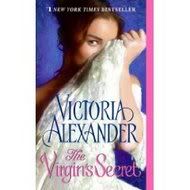 I adore just about any book by Victoria Alexander, and was ecstatic to see that her latest release, THE VIRGIN'S SECRET, was the beginning of a new trilogy. In fact, TVS is loosely linked to a previous book by Ms. Alexander, THE PERFECT WIFE, in that the Harrington brothers, Sterling, Nathanial and Quinton's smuggling great-great grandmother was pursued by a previous Earl of Wyldewood. With THE VIRGIN'S SECRET, Nathanial's first up on the block to fall head over heels in love...
From the blurb:
Even the least sensible woman knew, upon meeting his gaze, that here was a man who was more than he might at first appear, who might steal the heart of even the most resistant woman. But oh, what a lovely theft!

Adventurer Nathanial Harrington would never steal another man's discovery. And he'd never be so dishonorable as to tempt an untouched woman into his bed . . . even one as stunningly beautiful as Gabriella Montini. Yet she intrigues him. What is her secret? Nate would do anything to find out.

Nathanial is an earl's son—but Gabriella knows he's not to be trusted! He's more than just a mere thief of hearts, he's also stolen her brother's good name. Determined to restore his reputation, she'd even masquerade as a destitute orphan and be taken into his family's home. But how can she continue her ruse when she finds herself succumbing to Nathanial's passionate charms?
Now that I've reread the blurb and finished the book, I realize how off the description is. Gabriella's brother, Enrico, had died during his quest to rediscover the long lost seals of Ambropia. In one of his last letters to her, he'd alluded to the possibility that one of the Harrington brothers had stolen the seal after he'd discovered it. So Gabriella has made it her mission to find the antiquity and restore Enrico's good name, allowing her deceased brother to be credited for the discovery. It's during a ball when Gabriella first meets Nathanial, and she's hard-pressed to get him out of her mind after that night. Little did she know she'd run into him again when she's caught breaking into his family's house where she's begun her search for the Ambropia seal.
Nathanial is enraptured when he first meets Gabriella, not knowing her true identity or her name, at his sister's coming out ball. Color him surprised when the little thief caught rifling through his brother's office is the very same woman whom he'd first met that magical night. It goes without saying that he shouldn't be able to trust a woman who didn't trust him enough to even give him her name, but still Nathaniel is caught, hook, line and sinker, and almost falls in love that night. He certainly thinks about her enough and now he can keep her in his sights when she's pressed to stay with the Harringtons while they join forces to find the seal. For some reason, Nathanial's mother has taken a liking to this woman no one should be able to trust, but Gabriella speaks with such passion and without artifice, it's hard not to believe her story.
What follows is an entertaining tale of two people who learn to trust one another, no matter how tenuous that may be. For some reason, it took me a little longer to get into it but once I did, I enjoyed it. One thing that left me at odds is the purpose of a certain aristocrat who is known throughout the antiquities society for acquiring treasures and oddities without conscience for how he'll get them. I'm afraid I've already lent the book out and now I can't even remember the dude's name. Later in the book he offers Gabriella a job cataloging his collection, despite what it may do to her reputation. Anyhoo, it felt like this guy had just been thrown in there and used for a vehicle to introduce his wife, a past romantic acquaintance of Sterling, the eldest Harrington. It just kind of stuck out to me like a sore thumb...
Having said that, THE VIRGIN'S SECRET, while it probably won't rank up there as my favorite book by Victoria Alexander was pretty good. I do look forward to Quinton's and Sterling's books in the future, which looks like it won't be until 2010.