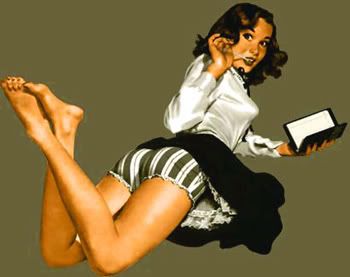 I've sorta been slacking on the blog this week, but I have had a good reason other than work! I've been reading! I'm reading a review for
RRT
and actually finished up a challenge/fun book last night. The challenge is the
Harlequin/Silhouette challenge
, although I didn't pick a book based on the criteria Yvonne listed. I was just looking for a quickie (*cough*), and Stephanie Bond's first book in her
Sex for Beginners
series, WATCH AND LEARN, jumped into my hands. Review is included in this post.
I've been cruising through the Blogosphere, and things are quite relaxed lately. Oh, folks are posting and I'm reading, but I've been trying to get as much news from the RT conference in Florida that's going on right now. Sarah and Jane from Smart Bitches and Dear Jane are down there, and Sarah's posts are, as always, dead-on. Can't wait to get her book this week from BAM -- BEYOND HEAVING BOSOMS. I had to order it, but it will be mine! Muhahaha.
Anyway, as promised:
WATCH AND LEARN -- Stephanie Bond
1st in the
Sex for Beginners
series
From the blurb: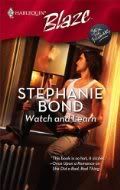 It all started with a letter...

Gemma Jacobs needs a life -- a sex life. Newly divorced, she vows that this time it's going to be all about

her

! So when she receives a letter containing an assignment she did for a sex ed course in college, she takes it as a sign.

In the letter, Gemma had confessed her most secret sexual fantasies...as well as her most forbidden sexual vice. She liked to be watched. By strangers.

And she still does.

Lucky for Gemma, her sexy new neighbor, Chev Martinex, is totally enjoying the show. But how well will her voyeuristic little game hold up when Chev decides to venture

behind

the scenes?
What the blurb doesn't have time to tell you is that Gemma's ex-husband is a state attorney general who blindsided her by dumping her and leaving for Tallahassee suddenly. So when we first meet Gemma, she's hip-deep in self pity and recriminations and trying desperately to figure out what she did wrong to mess up her marriage. Her parents (!) will be devastated! For 10 years, she stood proudly by Jason's side, as his helpmate, his support system, hostess, and all of the other little tags that describe a wife who has stayed beside her man on his climb to the AG's office. So, yeah, I instantly hated Jason.
Just as Gemma puts on her big girl underpants and decides to start moving on with her life, Chev Martinez literally comes knocking at her door. She's noticed that the For Sale sign next door had been taken down, and now apparently Chev is going to flip the house once he's done restoring it. He's not one to set down roots and generally lives a Gypsy lifestyle, moving from place to place. So this type of work perfectly suits him. But he sure will miss the sexy divorcee whose acquaintance he's just made. He just never knew he'd see so much of her in her bedroom window during the hot, sultry Florida nights...
Gemma, for me, kinda contradicts herself in the whole scheme of things. She's been on the straight and narrow ever since she met Jason in college. We learn from some of the flashback scenes when she's reading the letter that her peep show tendencies almost ruined her life. Since then, she strove to be the perfect wife for Jason, despite his apparent failure to notice. All of those fantasies come rushing back when she first gets the letter and meets Chev practically at the same time. What struck me as odd was Gemma's reactionary decision to use the watch-me fantasies as therapeutic way to get on with her life. Having a stranger watch her during certain intimate acts, or the though of it, gets her rocks off, and it's not long before she's performing for her sexy neighbor, in the safety of her own home. Gemma goes from 0-75 in less than a week, folks!
Hot? Check. Sexy? Yep, you got it. Scintillating and steamy? uhhuhsure... But, realistic? Nah. Of course, where's the fun in reality, right?
Poor Chev takes on more than he can chew when he first watches Gemma through the window. Sure, it's hotter than hell to watch a woman strip down to nada, but he wants more and doesn't know how much more of this peep show stuff he's going to be able to stand. It's quite obvious that Gemma's using this fantasy as a barrier to ward him off from getting closer, and he sincerely hopes that he can help convince her that a dance party of two is much more interesting than her solo act.
I had fun with this one once I settled into it. At first, I couldn't jive with Gemma at all. I just didn't see how you can jump head first into a thang with someone so fast after the divorce, forget the fact that the stays and laces went flying once Gemma remembers her college days. I wound up enjoying WATCH AND LEARN despite my hesitancy with it, and get this -- I liked Chev the more I got to know him. He can come flip my house any day! *ahem*
WATCH AND LEARN is an October '08 release. Others in the series include:
IN A BIND
, November '08
NO PEEKING...
, December '08