I've been cruising the websites and blogs to find out what's coming to bookstores in the upcoming year. Interesting enough, Jude Deveraux is back on the scene with a brand new book, out in hardback in May and paperback in November. Looks pretty good!
From
Simon and Schuster's website page for Ms. Deveraux
:
Jocelyn Minton is a woman torn between two worlds. Her mother grew up attending private schools and afternoon teas, but she married the local handyman. After her mother died when Joce was only five years old, her father remarried into his own class, and Joce became an outsider -- until she met Edilean Harcourt. Although she was sixty years Joce's senior, Miss Edi was a kindred soul who understood her like no one else ever had.

When Miss Edi passes away, she leaves Joce all her worldly possessions, including an eighteenth-century house and a letter with clues to a mystery that began in 1941. In the letter, Miss Edi also mentions that she has found the perfect man for Joce -- a handsome young lawyer. Joce is shocked to learn that the mystery, the house, and the future love of her life are all in Edilean, a small town in Virginia that Miss Edi never told her about. Hurt that the woman who meant so much to her kept so many secrets, Jocelyn moves to this tight-knit village in an attempt to understand the legacy that has been left to her. As she begins to dig into Miss Edi's mystery, she soon discovers some shocking surprises about her family's history and her own future -- and she meets a man with his own mysterious past.
There is also another book I found in the May issue of Romantic Times, VINTAGE by
Olivia Darling
, a debut author from what I can gather. Apparently the book was originally released in the UK last year. This one features three women going after a highly coveted award in the wine business. I've never been ashamed to admit my love of a beautiful cover, and this one is no exception...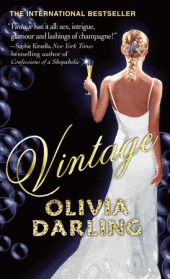 Goody goody -- two more books to add to my toppling TBR! BAM hasn't seen me darken their doors in well over a month now, and I'm sure they're missing me. And my dollars...*sigh*