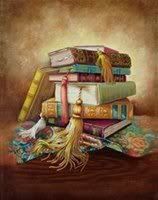 Leya
, one of my buddies on my most favorite Yahoo list, tagged me last week and I apologize for taking so long in getting this out.
Here are the rules:

Open the closest book to you, not your favorite or most intellectual book, but the book closest to you at the moment, to page 56.

Write out the fifth sentence, as well as two to five sentences following there.

Pass this on to five blogging friends.
"I said I understood."
"Convince me."
"I am not to sign any reports, I may not talk to anyone without you present, I may not speak with the media, and I may not initiate anything without your knowledge."
"I'm sure John told you it was a take-it-leave-it situation."
"Obviously, I took it."
"But you still didn't answer my original question. What is it you want?"
This is from Mariah Stewart's LAST LOOK, which I think is the first book in one of her recent trilogies. I know I have at least the next one in the series on the TBR, but haven't started it yet. (Anyone shocked?) I used to read Stewart's books all the time and got away from them for some reason, but I did enjoy LAST LOOK immensely.
Now, I tag:
Jace of
Jace Scribbles
Jessica at
Capital Romance
Jill from
Romance Rookie
Wendy, the
Super Librarian
(hope you're surviving in-law hell!)
And my friend
Fatin
, who I hope is feeling much better today!