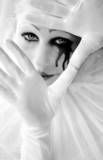 On one of my many readers' egroups, one of the girls posted
a challenge for Harlequin/Silhouette readers
. The goal is to read at least 5 Harlequin or Silhouette books between now and December 31, 2008.
I still haven't picked the five I plan on reading, but I'm hoping to sometime this weekend. I have some reviews to catch up on first. This may be the push I need to get some of the many, many Harlequin books I have languishing on my TBR pile. I have so many great books that I'd like to read, like, yesterday.
Many folks have been discussing their numbers in regards to what they've read so far this year since we're about half-way through 2008. I'm ashamed to say that my reading is a lot slower than what I'd like, but that real life thing is starting to kick my ass. BUT! I did read an entire book in two days' time this week, which is nigh on a miracle! Hopefully a review for Anne Frasier's GARDEN OF DARKNESS will be forthcoming today.